It is more than five years since I drove from Scotland to a vast expanse of woodland in mid-Wales with a precious cargo of four pine martens − of varying temperaments! Feeding blueberries to a pine marten in the car park of a service station on the M6 is something I will always remember. This journey was the beginnings of the translocation of a native species doing well in Scotland but heading for extinction in Wales and England. It was the culmination of many years' research by VWT, a detailed feasibility study, extensive community engagement and the hard work of dedicated scientists, conservationists and local volunteers.
In 2015, with the support of many organisations including Scottish Natural Heritage (now NatureScot), Forestry and Land Scotland, Chester Zoo, Woodland Trust, People's Trust for Endangered Species and Natural Resources Wales, VWT began to reinforce a relict Welsh pine marten population heading for extinction. This was the climax of the Pine Marten Recovery project.
Over a three-year period, fifty-one adult martens were brought to mid-Wales. The martens were radio-tracked during the first year, allowing the Trust to record their patterns of movement and territorial behaviour. Once the radio collars were removed, tracking continued using remote cameras and regular scat hunts − helped by an army of enthusiastic local volunteers. Five seasons of kits later and I know that I have been part of a landmark project − the first carnivore recovery programme of its size in Britain.
But, of course, it isn't over. VWT staff and volunteers continue to check the progress of this new Welsh marten population and although monitoring has been interrupted during periods of lockdown, there was a collective cheer when remote camera footage started to come in with evidence of yet another year of successful breeding in 2020. Such good news for a Welsh marten population once labelled as functionally extinct. This is the time of year when female martens will be giving birth to a new generation; precious marten kits that will help secure the future of the pine marten in southern Britain. Our fingers are crossed for 2021.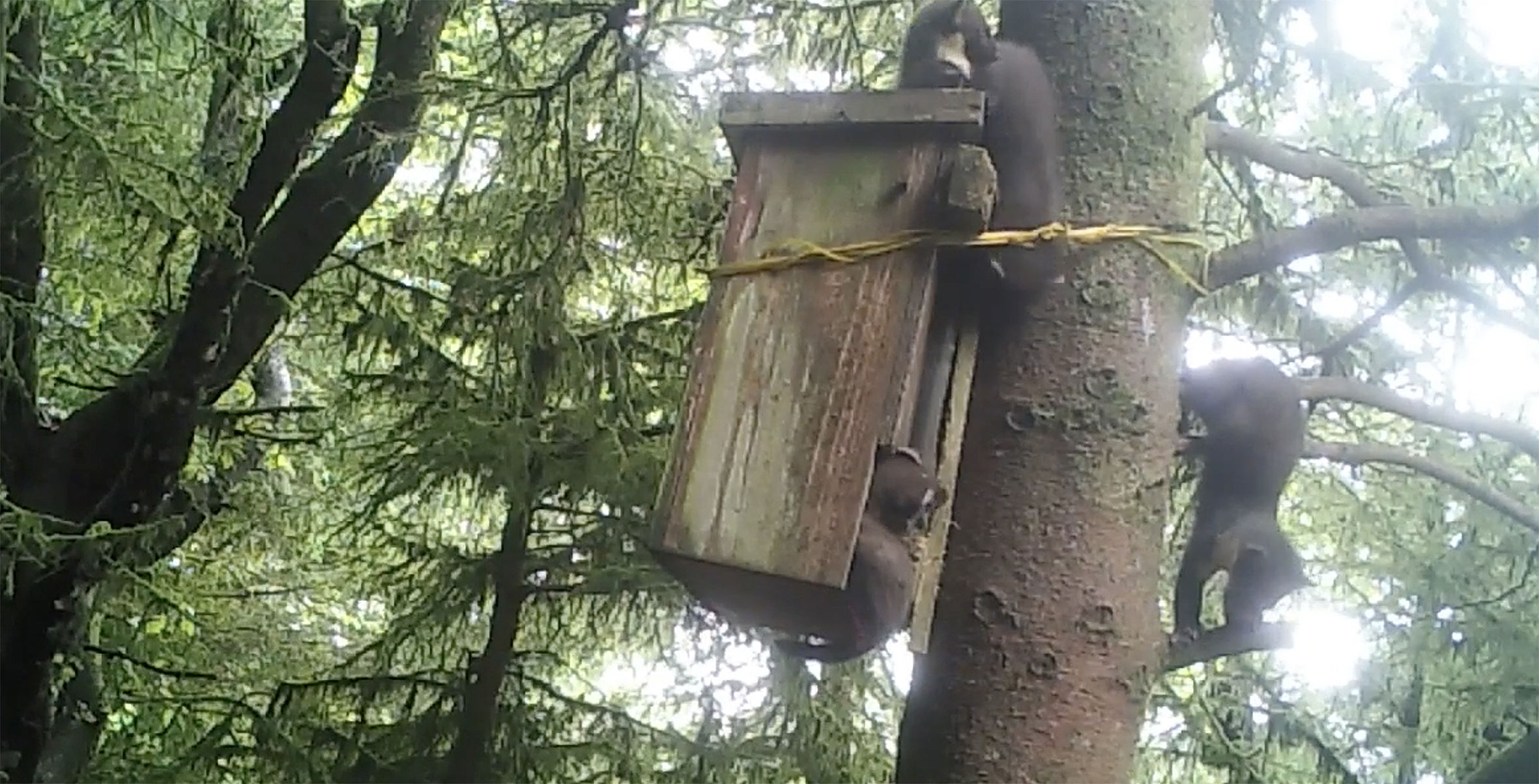 Pine marten kits caught on a trail camera
Now underway, is a reintroduction of the pine marten to the Forest of Dean and Lower Wye Valley, led by Gloucestershire Wildlife Trust. This new source population could one day meet up with the martens of mid-Wales and Shropshire, spreading naturally through areas of contiguous woodland. What this means is that by the middle of this century, pine martens could be well-established across Wales, the Marches and beyond. The VWT's work in northern England as part of the national Back from the Brink project resulted in the gathering of some 40 sightings of martens south of the England-Scotland border, another encouraging development in the pine marten's return.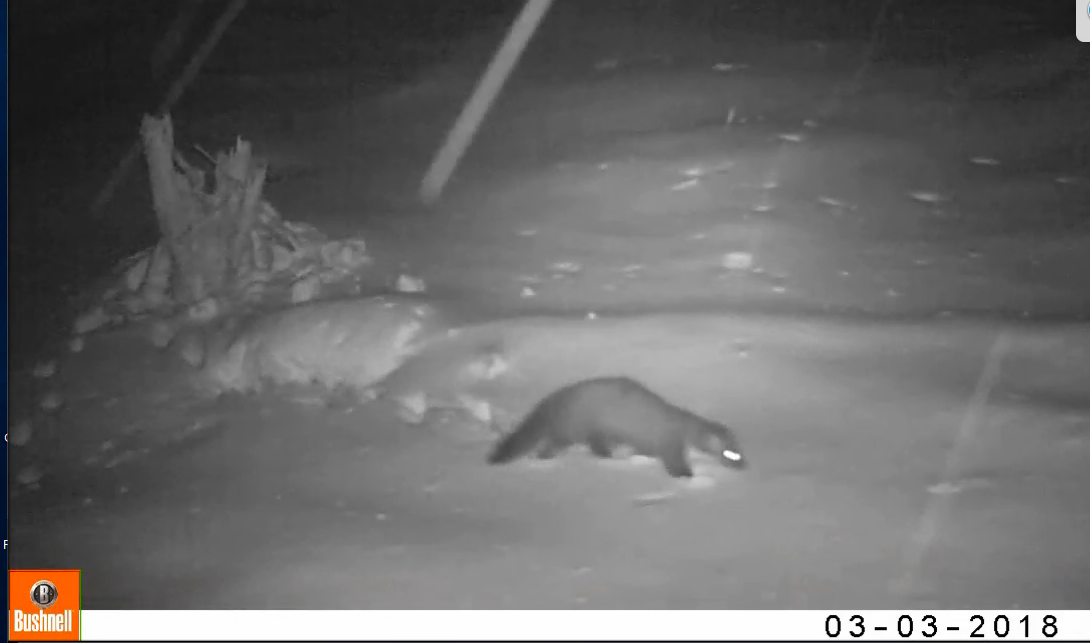 The very first record of a pine marten in the north of England
Things are looking good for the pine marten and indeed for other members of Britain's mustelid family, which brings some good cheer amongst the growing biodiversity gloom. The otter has now returned to almost every corner of Britain and the polecat has spread out from its Welsh retreat, recolonising much of its former range in central, southern and eastern England. Will the pine marten be another mustelid success story?
Today, I am back in the Rheidol Valley walking an old lead mining track above the waters of the Afon Rheidol. I am hanging on to a vain hope that I might see a marten − or at least evidence of one. Despite many visits to Cwm Rheidol, I have not seen so much as a flash of an apricot-yellow bib or a nanosecond burst of a bushy tail. A pine marten's largely nocturnal lifestyle means that I probably have more chance of seeing a golden eagle land at my feet than spot a marten.
I take a track into the cloud-shrouded Celtic woodland. A recent storm has left a chaotic jumble of windthrow to negotiate. Luck, it would seem, is on my side. After only a short distance, mounted on a moss-covered rock and brimming with berry remains, the sparkle of beetle cases and fragments of fur, I discover a marten scat. Unlike most of its cousins, the pine marten has a convenient habit of leaving scats as territory markers along paths and at points where paths cross, making them easy to find. The scat is quite fresh; it has not been long since a marten passed this way.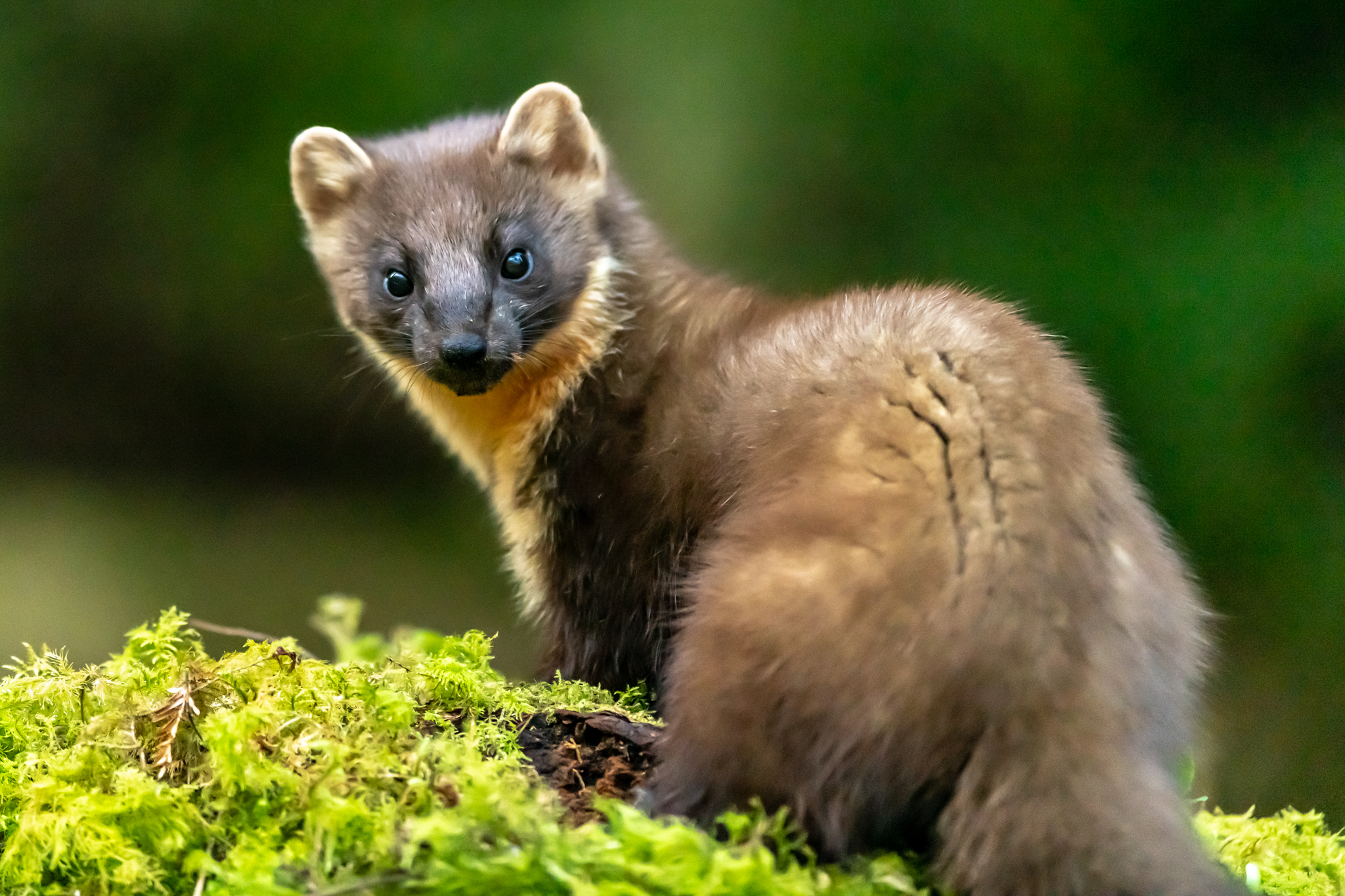 Photo: A Welsh pine marten captured on camera ©Jason Hornblow
Martens are regularly recorded in the Rheidol Valley so it is not surprising that I should find a scat, but it is all the same a thrilling find. To think that a species once perilously close to extinction in Wales is now enjoying a real comeback, and not just surviving but thriving, really does give me a feeling of optimism and a sense of hope – at a time when both can be in short supply.
Adapted from a 2020 magazine article
Hilary Macmillan, VWT Head of Communications
Main photo: ©Robert Cruickshanks