Greater Horseshoe Bat
Please filter by different types of publications
All Greater Horseshoe Bat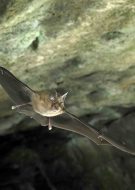 Finch, D. et al. (2020). Modelling the functional connectivity of landscapes for greater horseshoe bats Rhinolophus ferrumequinum at a local scale
This paper examine functional connectivity of greater horseshoe bats (Rhinolophus ferrumequinum) at a local scale using Circuitscape software.
Download
Horseshoe Bats
Worldwide there are over 85 species of horseshoe bats. Five are found in Europe, but only two, the greater and lesser horseshoe bat, are native to the British Isles. Horseshoe bats have a circular flap of skin surrounding their nostrils and the horseshoe shape of this 'nose-leaf' gives these bats their name.
Download
Morris, C. How the installation of grilles and re-roofing of a building in Dorset have allowed greater horseshoe bats to emerge earlier
It is well known that vegetative cover close to the entrances of the roosts of both greater and lesser horseshoe bats allows them to leave sites in relative security from predators. As the light level is lower, they can also leave earlier than if they had to cross open ground. However, little conclusive evidence of this has yet been published.
Download