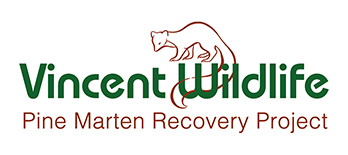 Pine Marten Recovery Project
Vincent Wildlife Trust, with its 30-year history of pine marten research, is boosting the struggling marten population in Wales with a small, but significant, number of martens translocated from Scotland.
In Britain, the pine marten declined drastically during the 18th and 19th century and by 1900, the marten was confined to the the Scottish Highlands and isolated parts of northern England and Wales. In order to facilitate the recovery of pine martens in Wales, the Trust has carried out a population reinforcement through conservation translocations. Elsewhere, in the north of England, VWT's Back from the Brink project is monitoring the natural spread of pine martens from Scotland.
Starting in 2013, a feasibility study was carried out to identify several areas in Wales with high habitat suitability for pine martens. Following extensive field surveys, engagement with local communities and stakeholders, and with relevant licences granted, a population reinforcement was carried out.
Between 2015 and 2017, the Trust carried out a pine marten population reinforcement in Wales, whereby 51 pine martens were translocated to mid-Wales from Scotland, resulting in the re-establishment of a viable marten population. All of the martens were fitted with radio-collars to monitor their movements and survival. In 2019, we are carrying out a distribution survey to gather up-to-date data on the range expansion and current distribution of the population in Wales. Read our blog for insights into the project and how the pine martens are faring.
What next?
Vincent Wildlife Trust is currently working with Gloucestershire Wildlife Trust and Forestry England to reintroduce pine martens to the Forest of Dean, Gloucestershire. In autumn 2019, 18 pine martens were released into the Forest of Dean. This will be followed by further releases in 2020.
Banner Photograph:
© James A Moore