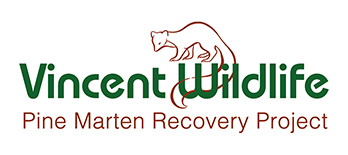 Pine Marten Recovery Project
Vincent Wildlife Trust, with its 30-year history of pine marten research, is boosting the struggling marten population in Wales with a small, but significant, number of martens translocated from Scotland.
A feasibility study was carried out to identify several areas in Wales with high habitat suitability for pine martens. Following extensive field surveys, engagement with local communities and stakeholders, and with relevant licences granted, a population reinforcement was carried out. During autumn 2015, 20 pine martens were captured in Scotland, in areas where there is a healthy pine marten population, under licence from Scottish Natural Heritage. These animals were translocated and released in an area of mid-Wales. All of the martens were fitted with radio-collars and are being tracked daily to monitor their movements and to find out where they have set up territories. During autumn 2016, we released another 19 pine martens. Read our blog on our Pine Marten Recovery Project website to keep up-to-date with news and developments.
Where have they gone?
In Britain, the pine marten's historical decline was in step with forest clearance, together with the 19th century rise in game shooting and associated predator control. By 1900, the marten was confined to the more remote uplands of Britain, including Snowdonia and the Cambrian Mountains. Today, the marten is doing well in Scotland, but in Wales and England this recovery had not taken place, and so the PMRP was set up in 2014 to bolster the dwindling population in Wales. Elsewhere, in the north of England, VWT's Back from the Brink project is monitoring the natural spread of pine martens from Scottish strongholds.
Why restore the pine marten?
The pine marten is part of our rich wildlife heritage. It plays an integral role in a healthy, balanced woodland ecosystem and can be an important predator of pest species, such as grey squirrels. As a bonus, re-establishing pine martens in England and Wales also has the potential to benefit the rural economy, as has been the case in Scotland, through the creation of tourism opportunities for people who are keen to see this captivating woodland animal.
How can you help?
Now is a critical time for the pine marten in Wales. We are currently working hard to restore this iconic woodland mammal to our rural landscape, but we need your help.
By donating to the Pine Marten Recovery Project, you will help us continue our work securing the survival of the pine marten in Wales. A donation of any amount is greatly appreciated. Thank you for your support.
Photograph: Pine marten © James A Moore