I started camera trapping about five years ago for my own enjoyment to look for polecats on the Mawddach Estuary. A few years later, I started volunteering for the Mammals in a Sustainable Environment project, where we were monitoring hair tubes and camera traps at Cwm Mynach to look for red squirrels. Cwm Mynach has a history with pine martens, so even though red squirrels are exciting, the chance of finding a pine marten there was always in the back of my mind!
At the end of 2016, the cameras at Cwm Mynach were taken down and moved to Clocaenog Forest to use on a red squirrel project. It was there that I met Dr Jenny MacPherson, who gave a presentation on the Pine Marten Recovery Project. She showed us that a pine marten had been tracked to Clocaenog and that another had been tracked not too far from Cwm Mynach, where our cameras had just come from! After having a chat with Jenny, I joined up as a volunteer for the project and just a few weeks later I met with Josie Bridges to learn how to do a scat survey in Rheidol.
One of my first tasks was to find PM13 and her kit. I had two camera traps of my own to use and it took me a couple of weeks to get them both on camera. The next challenge was to get her to visit the bait post regularly; with the purpose of trapping her to remove her GPS collar. This proved to be a lot harder than it first looked! PM13 is an expert trap operator with an incredible nose for 'set' traps – regularly going in them all the time until they were 'set' and then turning her nose up at them! On top of that, the locations of the bait posts were on steep muddy forest slopes and was affectionately known by the team as "the hill of despair". Therefore, we set up more bait posts closer to forest roads to get her visiting and going in on a regular basis. To do this, I used spots where I'd found scats, practising a trial-and-error technique with the camera traps and following the deer trails between successful trail cam spots. In total I set up, maintained and monitored five more trapping sites and the team finally got the collar back in December!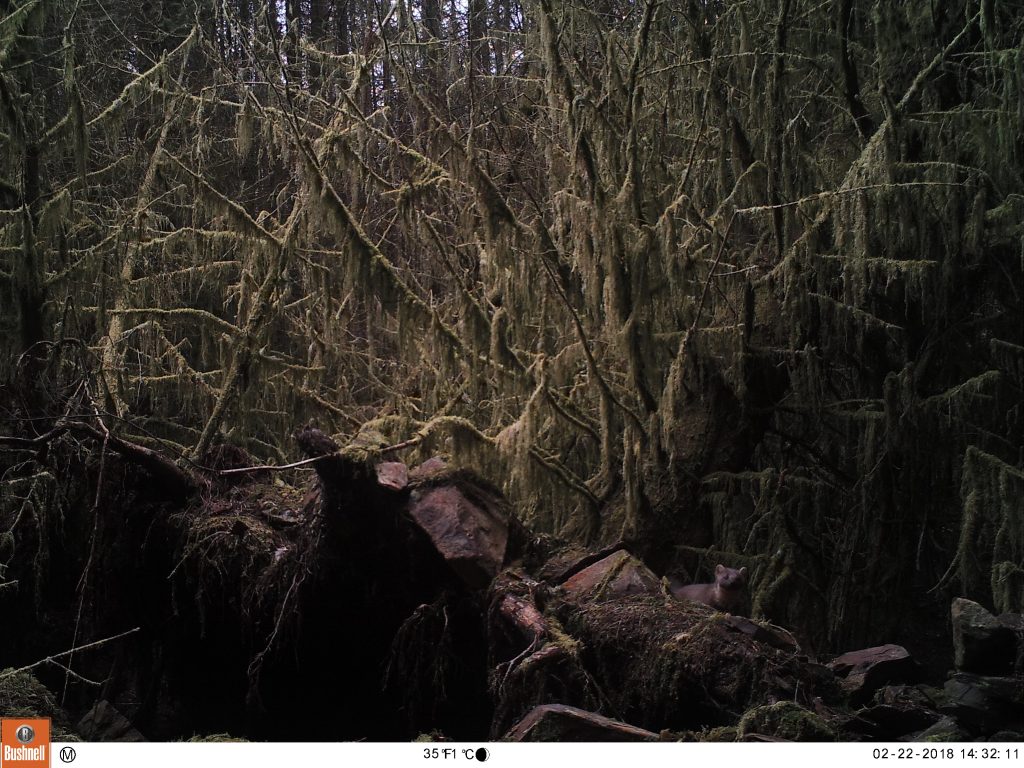 Photo: Pine marten ©Matt Davies
We have also had two other pine martens visit the forest – PM24 and PM25. PM25 is now the resident male but PM24 hasn't been seen since July, so this year I've been using the camera in the far reaches of Coed Y Brenin trying to locate him or PM13's kit who might still be in the area. I've also been using the snow to track PM13 and PM25 through their territories and hunting routes. Snow tracking has given me an insight into how the pine martens move about and the places and terrain they like to use. This understanding helps massively with the camera trapping, with the added bonus of being able to see nice landscapes as you follow the trail, which often makes it easier to set up and frame shots. It is this part from which I have learnt the most – actually seeing exactly where pine martens go and how they are behaving. The areas they gravitate towards, like the fallen trees, raised roots, dead trees and along the old dry-stone walls, are usually full of mice and voles which the camera traps help confirm. I've also learnt a lot about Coed Y Brenin and Coed Ganllwyd, and all the other animals and plant life in the area that make it really interesting.
One of the highlights of volunteering with the VWT has to be seeing pine martens on camera in Wales; I might have seen bits of one in real life, but whatever it is moves so quickly through thick vegetation that I can't be 100% sure that it is a marten! Knowing that PM13 is now collarless and "au naturel" also makes me very happy, along with the prospect of kits making an appearance in the next few months.
Matthew Davies, PMRP Volunteer
The Trust is currently running a camera trap loan scheme, where we are providing cameras to individuals who live or work in an area where there may be pine martens. 
Please contact enquiries@vwt.org.uk if you would like more information on our camera trap loan scheme.