A day in the life of one of Vincent Wildlife Trust's volunteer camera trappers, Matthew Davies, who first volunteered during the Pine Marten Recovery Project (PMRP) in Wales from the start. Now he is an experienced camera trapper for VWT and the Woodland Trust. Matthew is skilled and passionate about capturing evidence and records of pine martens as the population grows and expands in Wales.
So, after a week of early shifts I'm up, having had a lie in, two breakfasts, sorted batteries, SD cards and treats and now ready to go at 07:00! First stop, a Celtic rainforest with a huge gorge with steep sides covered in bryophytes and plant life that could be un-changed since the Ice Age! The camera is at the start of the gorge and has been there since new year recording many mustelids including pine marten. This Woodland Trust camera is being taken out and used by other volunteers elsewhere but has done its job documenting the spread of pine martens north through Eryri. 
After a quick coffee and a fly past from a kingfisher, it's time to leave the gorge and head further north to the steep-sided and boulder-littered woods of Coed Oerddwr (wood of the cold water) which climbs up from the Glaslyn and heads toward Moel Hebog (Mountain of Hawks). 
The zigzag cart track is steep but always has plenty of seasonal wildflowers to keep your mind off burning muscles! A little bit of meadow/farmland splits the two sections of woodland, the lower being Celtic rainforest and upper being predominantly conifer. 
The conifer area is gradually being turned to broadleaf with pockets of gnarly broadleaf trees in inaccessible steep craggy places — perfect pine marten country. Here I have one camera that is productive with pine marten footage and another which is there to capture whatever comes along. The 'whatever' camera has inadvertently captured a glimpse of pine marten darting between trees at the back of the shot so I'm now going to move this camera to track the trail of this pine marten to see where its route goes… which will eventually help me set up a camera for bib shots.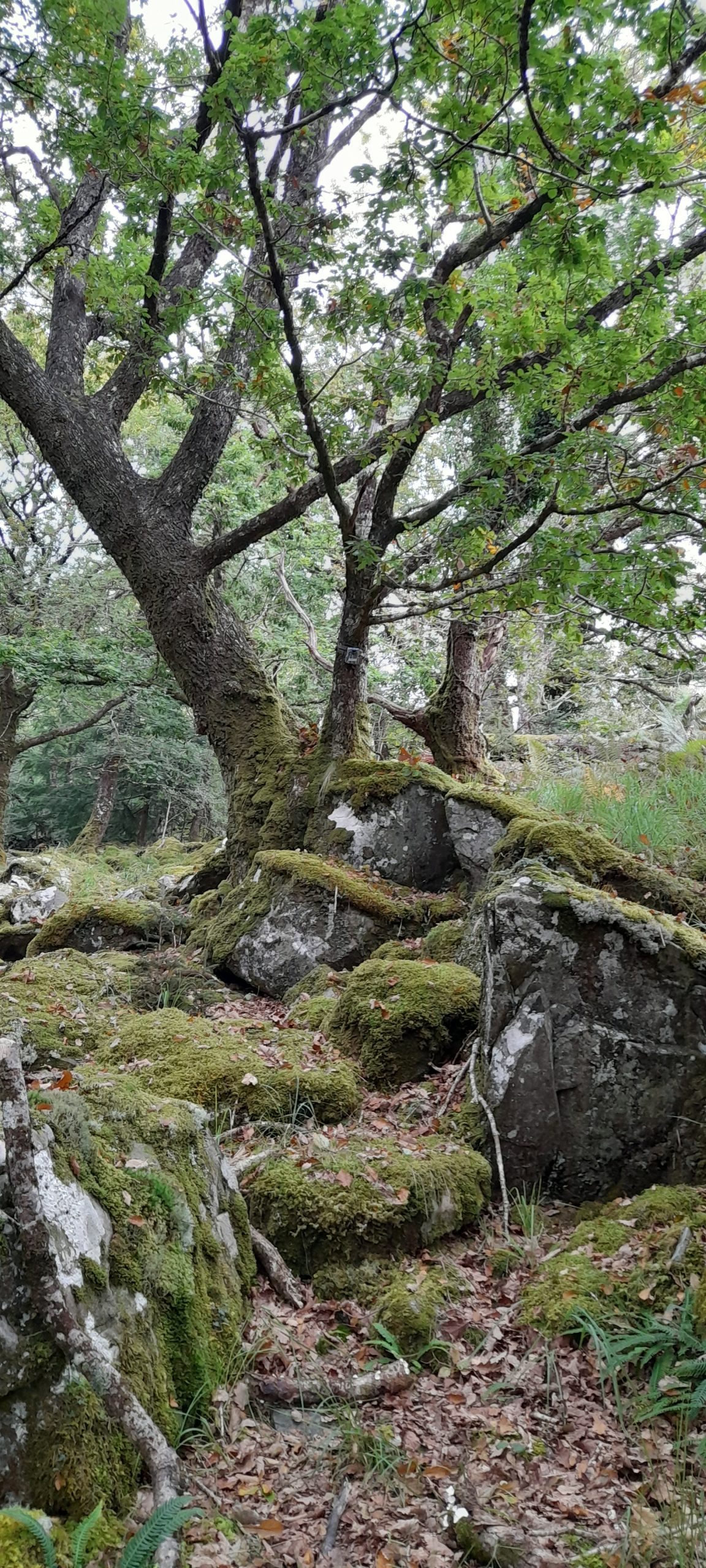 Pine marten country: ©Matthew Davies
More coffee — this time with cake — on the edge of a big rocky outcrop overlooking the mountain ranges from Eryri to Cnicht to the Moelwyns and the Rhinogs, which is one of my favorite views in Wales and well worth the drive and climb!
Stop off in Coed Y Brenin on the way back to Barmouth at Maesgwm Farm to walk the dog and collect some fresh free-range eggs for more pine marten camera trapping. One more (shorter) walk on private land that contains some prime Celtic rainforest and has had visiting pine martens for over six years now. 
The original Coed Y Brenin breeding pair of PM13 and PM25 are still here — there's also a mother with a kit and a pine marten that travels between Barmouth and Ganllwyd, which is probably one of the kits from 2018. All are present on the footage, so that's five pine martens here in Coed y Brenin. 
There's a mother with three kits further down the Mawddach and I have seen CCTV footage from Dolgellau with another pine marten on it. That makes at least ten on the Mawddach and two further north, with plenty of sightings in Arthog, Llan Ffestiniog and Rhydymain… and that means a job well done by VWT's PMRP. The Welsh pine marten population is back and ready for business!
The most important factor in choosing a camera trap location now is: how far is it from a car park!
Thank you to Matthew and all the volunteers who helped to make the PMRP such a success and to those volunteers who have continued to champion and monitor the pine martens recovery across Wales.
Banner photo: ©Matthew Davies