Despite being in my third year of my PhD studying bats, I had yet to see a bat up close in person. I study bat genetics and how they relate to white-nose disease tolerance, and the extent of my contact with bats had been extracting DNA from little scraps of bat skin from the lab freezer. When I had the chance to take a work placement for three months as a break from my PhD, I didn't know I would have the chance to see so many bats.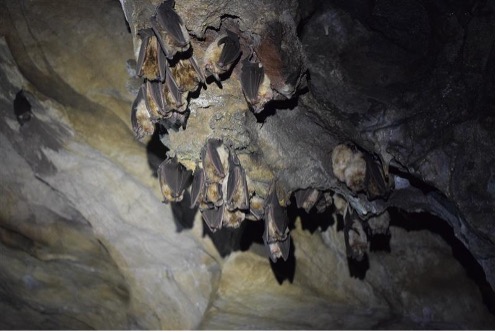 Greater horseshoes in a cave I visited in Devon. Photo: ©Tom Kitching
My placement has been focused on data analysis around the new maternity site for greater horseshoes, which is the first maternity site for this rare species to be found in the southeast of England in more than 100 years. My induction was held during a buzz of activity as the fundraising drive to buy this site had just been picked up by the media. I got to visit the roost while Tom Kitching, one of VWT's Bat Conservation Officers, was being interviewed for Channel 4 News. This 19th-century crumbling stable block, which would be my focus for next three months, has the potential to be a vital foothold for the greater horseshoes to expand back into their historic range.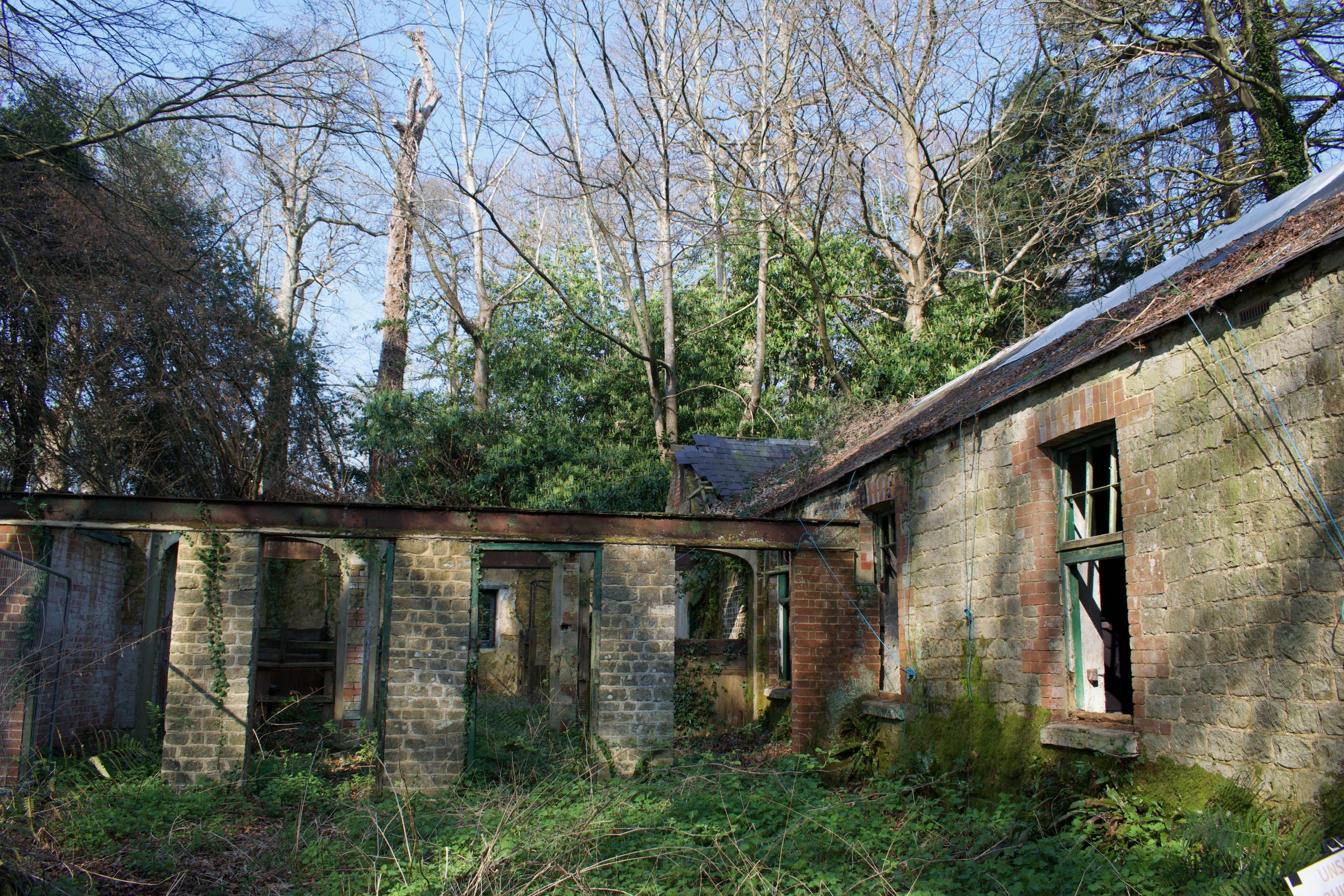 This derelict stable is VWT's exciting new maternity roost. Photo: ©Julia Bracewell
Most of my work was to create a connectivity model for the area around the new site. This would show how easy it would be for greater horseshoes to move through the landscape and access feeding grounds and hibernation sites. This required dredging up all I could remember from a university module I studied more than four years ago, as well as time spent Googling online. After lots of data prep, deciphering borrowed code and careful hand tracing of all the hedges in a 3km radius around the site, I created the connectivity model. Not only did this model show that the surrounding area looks pretty good for the bats, but the model may actually be used to inform where the landscape can improved by increasing hedge lines.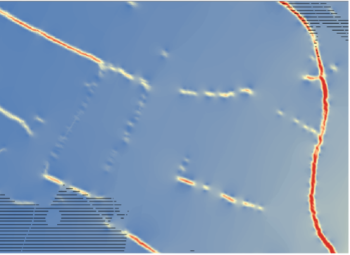 Connectivity model for the area surrounding the new bat roost 

This model shows regions of high connectivity for the bats in red, which often follow the hedgerows that the bats fly along to travel between the roost and feeding areas. The gaps in the red lines show where the habitat could be improved for the bats, such as by planting more hedgerows. Graphic: ©Flora Whiting-Fawcett/VWT
I've also analysed bat calls to assess activity at the site, listening to the sounds of bats to check the species ID. Not only does the future look pretty bright for this tiny population, but it's been very exciting for me to be working on a project that can be directly useful to the conservation of this species.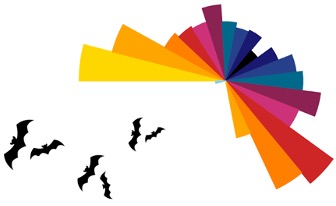 Bat activity between sunrise and sunset – I spent far too long colouring accordingly. Graphic: ©Flora Whiting-Fawcett/VWT
Between my wrangling of the data, the Bat Team invited me to tag along to a number of their projects. And so, in my various trips out, I've seen 10% of the UK's greater horseshoe population – we counted 800 in one roost alone. I've seen lesser horseshoes in an abandoned ice-house, noctules in bat boxes, and pipistrelles squeezed into a tiny crack in a roof beam. I've climbed up ladders, down into a cave, and was waist-deep in a pond that we had just dug out. I'm very grateful for the team for dragging me away from my multiple screens, and showing me a glimpse of real-life conservation work.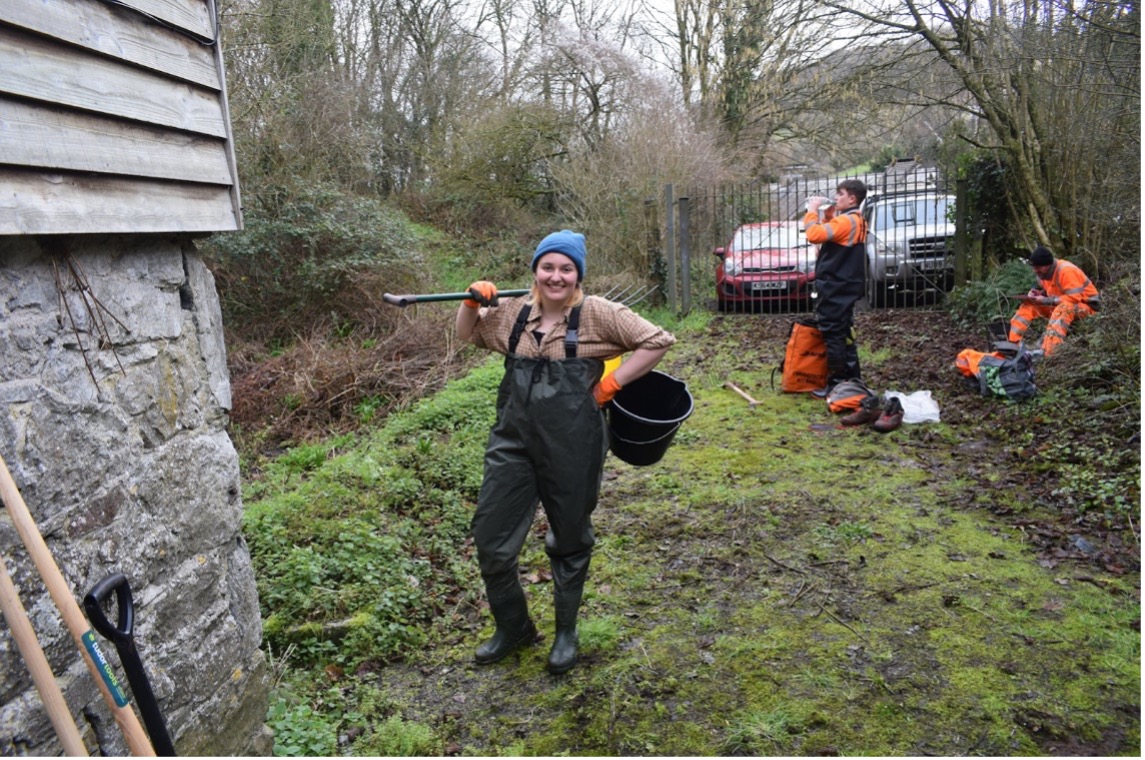 Me prepared to dig out a pond. Photo: ©Tom Kitching
I've had an amazing time with Vincent Wildlife Trust, met some great people and dogs, and feel like I'm leaving a more confident and well-rounded bat scientist than before.
Flora Whiting-Fawcett, PhD student work placement