I'm currently in my final year at Newcastle University studying Countryside Management. This is a practical and hands on course which offers a career development module, aimed at gaining experience to benefit future career aspirations. Choosing this module allowed me to work with the Vincent Wildlife Trust's Pine Marten Project Officer, Kevin O'Hara. The Back from the Brink (BftB) Pine Marten Project plays a major role in protecting one of Britain's rarest species, which relates directly to my course and future career in conservation. My university timetable allowed for days in Kielder Forest which was obviously a nice change from lectures!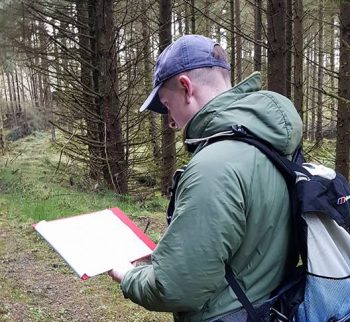 The exciting days always started with a good laugh in the car with Kevin on the way up to Kielder. Our aim was to try and catch a pine marten on a camera trap within the forest after undertaking scat surveys within different locations. We deployed four cameras in four different areas of the forest within typical-looking pine marten habitats. On each trip to the forest, usually every 3 weeks, we changed and eagerly checked the SD cards for any pine marten activity. Unfortunately our cameras didn't show any…however, they recorded some great footage of foxes and deer! In March another camera, placed in a different location by another volunteer managed to record a pine marten, which proves their return to the forest! Next steps are to install artificial den boxes to provide resting and breeding sites to enhance habitats.
The first pine marten footage recorded during the project
Working with the VWT and Kevin has allowed me to gain first hand experience in various conservation methods which has enhanced my studies within several modules. I have learnt a great deal about the history, biology and behavior of the species from Kevin and our time in Kielder Forest. This coupled with the experience in maintaining good working relationships with other project stakeholders has jump started my career after university. The highlight of my time with the project has to be the experience I have gained. Video footage of the species wasn't too bad either!
Lewis Pemberton, Volunteer with the Back from the Brink Pine Marten Project
To find out more about the Back from the Brink Pine Marten project, click here.