Polecat
Please filter by different types of publications
All Polecat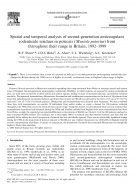 Shore, R.F. et al. (2003). Spatial and temporal analysis of second-generation anticoagulant rodenticide residues in polecats
Polecats in Britain are currently expanding their range eastwards from Wales to reoccupy central and eastern areas of England. Second-generation anticoagulant rodenticides (SGARs), to which polecats are exposed by eating contaminated prey, are used more extensively in these central and eastern regions, leading to fears of increased exposure, and possible resultant mortality.
Download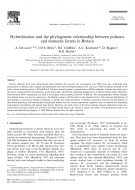 Davison, A. et al. (1999). Hybridization and the phylogenetic relationship between polecats and domestic ferrets in Britain
Ferrets were domesticated from polecats more than 2000 years ago. Following their introduction to Britain, they escaped and hybridized with native European polecats. Native polecats declined to the point of near extinction prior to World War I but have recently begun to expand from a Welsh refugium. Concern has arisen as to the extent of polecat/ferret introgression, and in particular, whether the expanding population is of mainly hybrid origin.
Download