My second anniversary of working for the Vincent Wildlife Trust was spent mostly heading north on the M6 en route to the Highlands for the third and final year of pine marten translocations to Wales. It was not dissimilar to my first day with the Trust, which was spent heading south en route to head office for my first day of induction and meetings! It's been a long and busy two years spent mostly chasing errant martens across Wales, and our final trap season felt very much like the end of an era.
This year I was in Scotland for the first two weeks of the five-week trapping schedule and, despite the forecast, it was sunny skies and low numbers of midges for most of the time! The majority of our time was taken up with pre-baiting the trap sites and networking. The first week we caught two beautiful females (PM40 and PM41) who were checked, collared and driven down overnight to be welcomed to Wales by road closures and thick fog. Luckily, they made it to their release pens without incident and were released five days later. Unlike some of their peers, these two haven't travelled very far, setting up home in the vicinity of their pens, which the tracking team are pleased about. In week two, it was my turn to drive that week's captures down across the border, along with the VWT's Bat Programme Manager Anita. We had a female (PM42) who was very quiet and well behaved, and who ate her travel snacks of blueberries and water very daintily and without a growl, and a male (PM43) who was the exact opposite. He was grumbly and snatched at his blueberries in-between growls!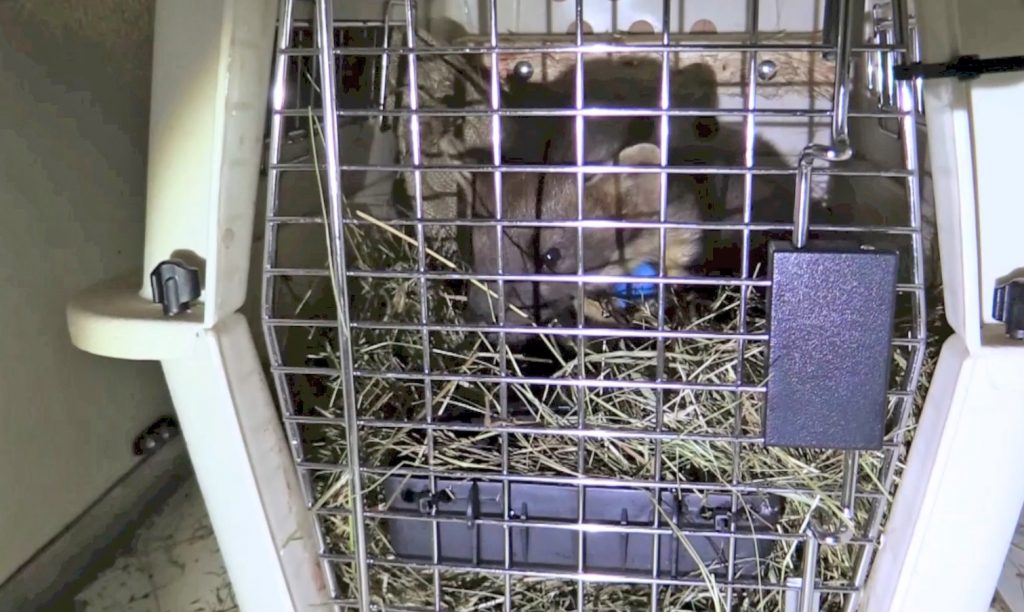 Pine marten in transit. Photo: ©Josie Bridges
Once back in Wales, over the next few weeks we tracked our newly released martens and fed and monitored that week's new arrivals in their pens. The last week ended on a high in Scotland with a full complement of four martens trapped, tagged and transported to Wales. This year's release site was a bit further north than the previous years and so there was a whole new bit of forestry to explore and learn our way through. We now know the first and second year release sites like the back of our hands so tracking in a less familiar area has been both frustrating and exciting. Whilst back in Scotland the team packed up and said goodbye to the Highlands. The final translocated pine martens have now been released into the Welsh forests, bringing the total up to 51. This year's 12 martens will be radio and GPS tracked over the next 12 months so we can follow where they explore and where they ultimately set up territories in their new home.
In amongst the radio-tracking we were also invited to attend New Scientist Live at the end of September, as part of Chester Zoo's Act for Wildlife team. Since 2014, a series of live events, organised by New Scientist magazine, have allowed enthusiasts to experience the people shaping scientific discovery face-to-face. Chester Zoo attended for the full four days of the event, managing to engage with a total of 1,234 people in that time and invited us to attend their conservation themed day. We came armed with pictures of marten bibs for attendees to match to wild camera trap footage (a martens 'bib' is unique to each animal), and plenty of scat photos from lots of different wildlife to let people see if they could pick out the marten ones. We also brought along a couple of sets of radio-tracking equipment and radio- collar that was taken off one of the first-year animals, so the collar could be hidden somewhere in the exhibition hall and we could send visitors to the stall off to find it. This is a technique we first used at Manchester Science Fair last year and we found it was so much more effective at engaging people to our work than just talking to them. It really allows people to understand what we spend a lot of our time doing and teaches them the science behind our work… and it's also a lot of fun! Despite the collar being hidden relatively close and without any trees or river valleys for the signal to bounce off (so in theory being easy to find), tracking inside a building can cause its own problems! Radio telemetry equipment can really be affected by other electrical equipment and by large amounts of metal, so working out the correct direction of the signal was tricky in an exhibition hall filled with TV screens, computers and steel girders. However, everyone that had a go at finding the collar eventually found it and we managed to turn quite a few heads whilst walking across the hall with a giant aerial.
The event was great fun and it was good to engage with a whole new group of people. Many of the people who came to talk to us on the stand (after being initially attracted over by Scotty the taxidermy pine marten) had never heard of a marten and were fascinated by the video footage we had of them. Those that did know what a marten was were thrilled about the project and about how much information we had on individuals after they had been released. Rather than talking about all 51 martens as a whole, we talked and had information and footage of six individuals and their stories, which made people feel very connected to the project.
The translocations may be finished but we will still be monitoring our, now collarless, animals from year 1 and 2 through camera traps, hair tubes and scat surveys. We are always interested in any sightings, photos of martens or possible scats that members of the public may spot. If you think you have seen a pine marten in Wales or England please report it. We will also be running a 'camera trap loan scheme' where we will lend out camera traps to individuals who live near a wood where martens might be present. If you have reason to believe there is a marten in your area, please do get in touch. Finally, we will be organising a community meeting in Pontarfynach/Devil's Bridge, Ceredigion on the 23rd November to hear feedback and give an update on how the final translocation went and how the project will be moving forward in the future. Keep and eye on our Facebook page for more info!
Josie Bridges, Community Development Officer, Pine Marten Recovery Project