From the early feasibility stage of our Pine Marten Recovery Project through to the post release monitoring of the pine martens, discussions with local farmers have been continual. Our conversations primarily concern the pine martens, but range widely over topics such as anecdotal observations of wildlife, predator/prey/livestock interactions, land use – both current and historical, and speculation over what the future holds for the rural economic and ecological landscape.
There is no doubt that farming in the UK faces major challenges in the near future from climate change, Brexit and a probable change in emphasis from the 'production at all costs' policy of the Common Agricultural Policy to the delivery of public goods through environmental incentives. Michael Gove has been clear in stating that farmers will have to earn their subsidies, and environmental payments will be central to this. Conservationists also face a challenge: how can we effectively grasp this opportunity to protect and enhance biodiversity, whilst balancing the interests of the numerous and various practices associated with modern farming?
One thing is clear: farmers, conservationists and other countryside stakeholders will have to work much more synergistically in the future, with hands and minds open, to conceive sensitive, tailored schemes that can produce something almost as elusive as our pine martens – a harmonious marriage of food production, ecosystem service delivery and biodiversity conservation. It is a huge challenge that begins with a willingness to work together. At the VWT we have had first-hand experience of this good faith during the feasibility stage of our Pine Marten Recovery Project, where a number of local farmers attended and contributed to our community meetings. Some also participated in my PhD research. This is against a backdrop where Welsh sheep farmers have found themselves the focus of criticism (often vitriolic) from many environmental sympathisers galvanised by the popular concept of rewilding. The farmers who got involved in our work therefore took a great reputational risk simply by associating with a carnivore recovery project, let alone actively contributing.
So, how could we reciprocate this good faith? We decided in the immediate term that the least we could do was learn about sheep farming, and the way of life for an upland farmer. We are doing this by helping out with the lambing on three local farms, ranging from the lowlands to the mountains. The first lambs to arrive were on Huw and Ann Tudor's lowland farm in the second week of February. Huw and Ann's farm is large for the area, with 1800 ewes and 600 cattle. They farm near Llanilar in a comparatively gentle valley which chaperones Afon Ystwyth to the sea. Unlike a lot of the hill farms further up the watershed, they lamb their ewes, a mixture of lowland breeds (Texel crosses, blue faced Leicester's, Suffolk's and speckle faced), inside.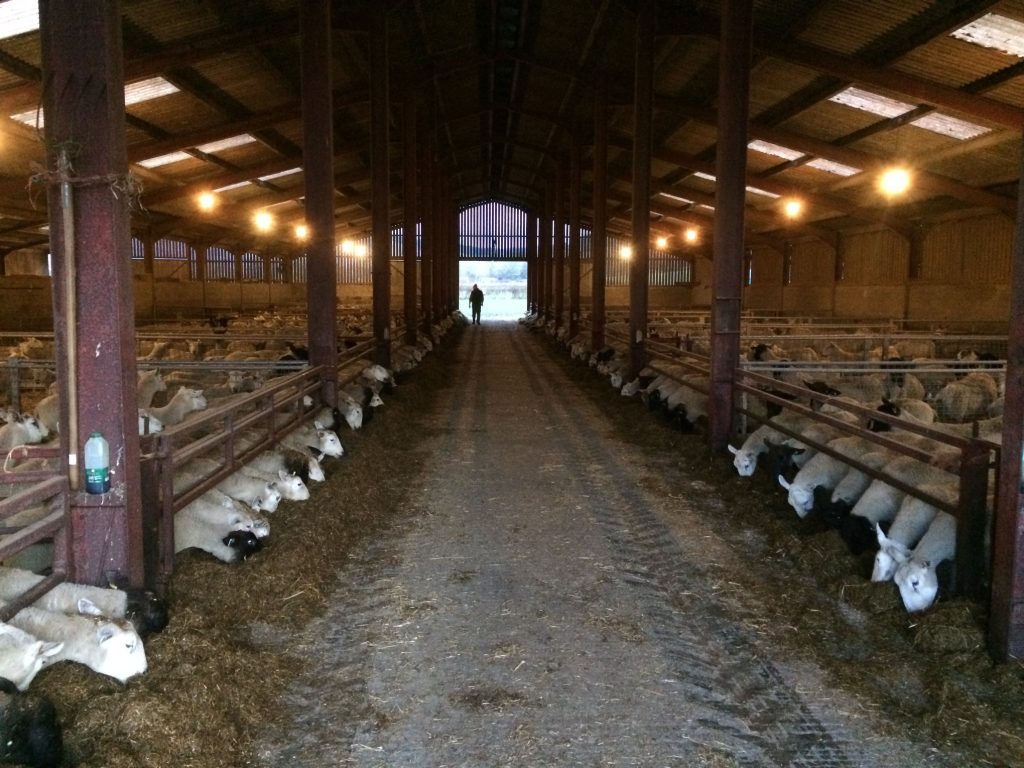 Ewes are split into groups based on whether they are expecting singles, twins or triplets. Photo: ©David Bavin
Kate McAney and I turned up on a chilly bright February morning, and with precious little preamble from Huw were allocated to different farm workers; all local lads (and lass) who had worked on the farm for years. I started out feeding the ewes with Owain (who competes in the shearing at the Royal Welsh each year). Ewes get different feeds based on their state of pregnancy and the numbers of lambs they are expecting – singles, twins, triplets and exceptionally quads, and are separated accordingly. Vigilance is required to spot ewes going into labour, at which point either Owain, or chief midwife Dylan steps in to ensure a smooth delivery. Both Kate and I pulled our first lambs that morning – a wonderful experience! I was reticent at first, but soon got a feel for it, quite literally. We both delivered triplets who are given twenty minutes or so with their mam and the other ewes before being moved to their own stall with fresh bedding and feed. Whilst Kate delivered her lambs I watched Owain and another farmer, Rob, deftly sew up a ewe whose uterus had prolapsed (everted itself from her straining). Sadly for her, the prolapse condemns her to slaughter next year, due to the high likelihood of recurrence if she tries to lamb again.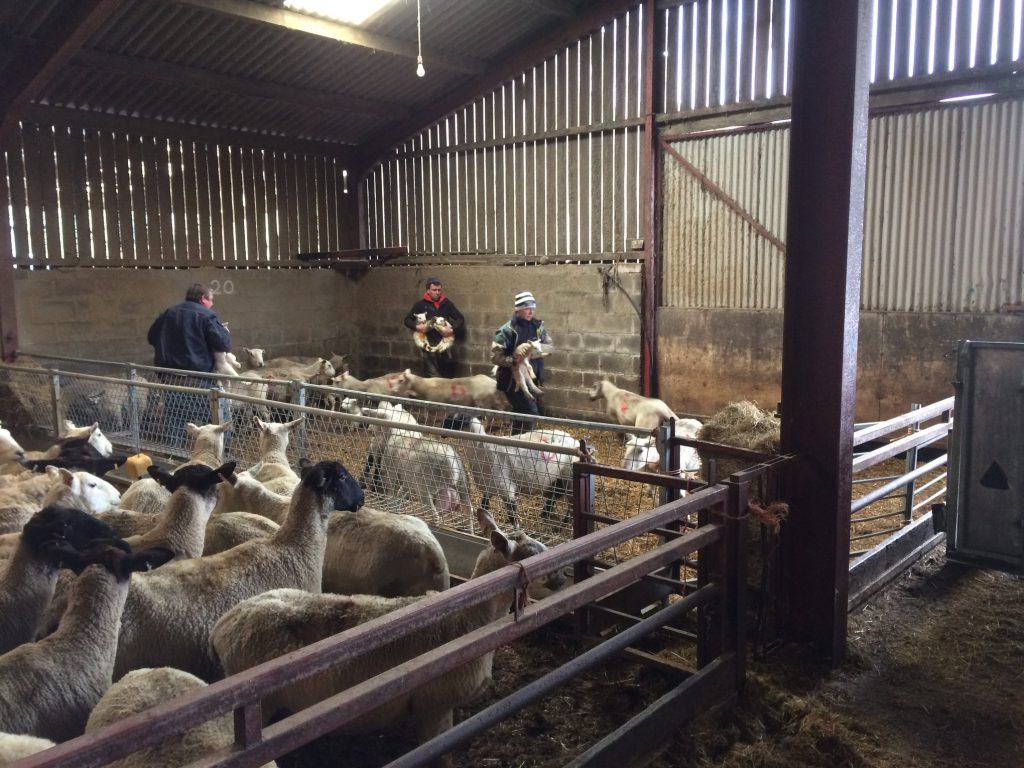 The weather was good enough that these two-day old lambs could be moved with their mothers outside. Photo: ©David Bavin
Once the ewes and new lambs have their own stalls, the lambs must be 'put to suck'; they are physically put to the ewes teats until they take on their first feed. A key factor in the whole operation's success is whether the lambs have full bellies. Bellies full of milk mean strength, growth, and crucially, resistance to the weather, which being February was as often cruel as not. Putting the lambs to suck took patience and technique. It was frustrating at first, until you realised that it could not be rushed and requires technique– you must prop the floppy lambs up so they are comfortable and squirt a few jets of milk into their mouths, whilst gently securing the ewe in place with your body. The lamb's instinct is to suck, but they are wayward in their newness, requiring guidance to keep them in the right position. After I had failed to get one lamb to suck for over half an hour or so, Huw clambered over the hurdle into the stall, took over, and had the lamb sucking lustily within a minute. There's no substitute for experience. If the lambs don't take to it they are given a bolstering feed of colostrum from a bottle; the weakest are kept in a 'hot box' to keep them warm until they have more strength to feed. Many farms have hardier breeds and are much more hands off in their lambing. Huw's operation is larger though: bigger markets to supply mean breeding meatier crosses from lowland breeds. Providing a helping hand at the early stages simply means less loss from inexperienced ewes and weak lambs.
The rest of the days were spent watching the ewes, checking on lambs, putting new lambs to suck, topping up feed for the mothers, providing clean bedding, moving ewes and well fed lambs on to larger enclosures, and continually tinkering the pens to accommodate the flux of lambing ewes. I also pulled another pair of twins and a set of triplets! Both Kate and I were struck by the conscientious treatment of the sheep, and also by the level of technical expertise accrued by the farmers.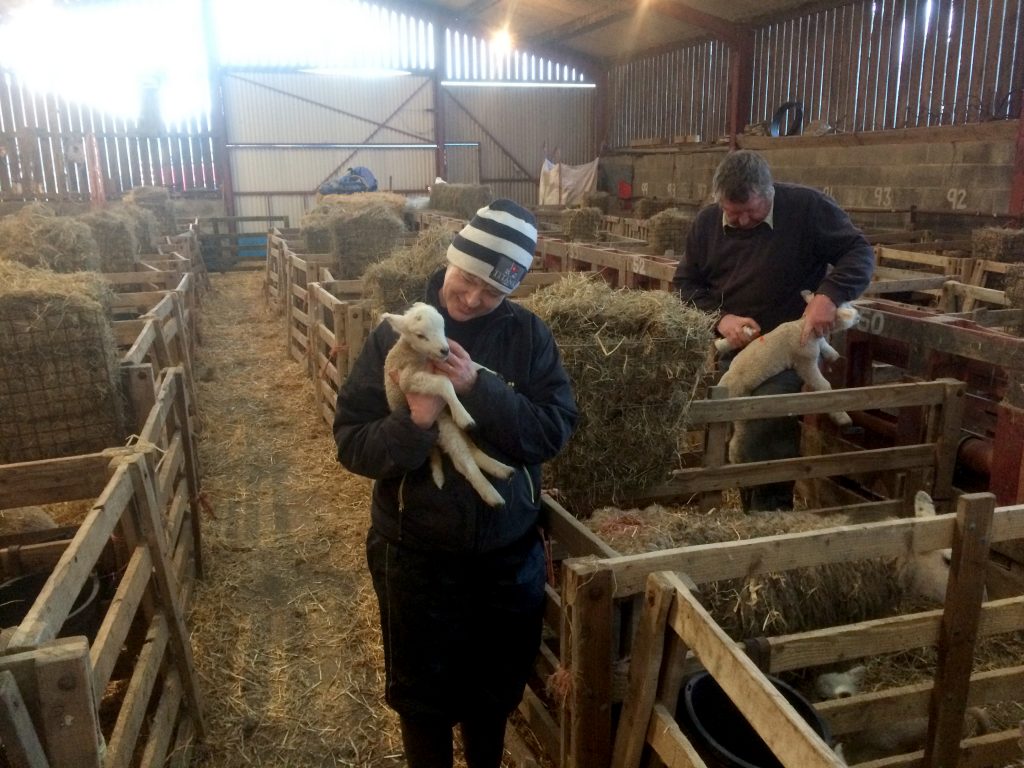 Kate McAney poses with her young namesake! Named in her honour by the owner Huw Tudor, marking lambs in the background. Photo: ©David Bavin
The day was punctuated mid-morning and afternoon by tea, which is eagerly anticipated, especially if the weather is foul. This was my favourite time – not because of the sit down and the tea, but because all the farm workers sat together in the lambing shed whilst Ann bought down flasks of tea and biscuits from the house. It was very familial, and the conversation flowed naturally in Welsh, and in English for the benefit of Kate and I. I was happy to listen: Ann might enquire after a sick relative of Owain's, or they would tell us stories about each other. 'Banter' and its connotation have become frowned upon in recent times, but it often functions as the connective glue that builds and cements bonds between the grittier characters in life. The banter within the group was affectionate, and an obvious source of familiar pleasure between friends who work day in day out together. A huge teddy bear stands in the lambing shed – a tribute to Gwenno, Huw and Ann's daughter who died tragically in a car crash at 18. Her signature is scrawled across the wall in sheep marker spray – as are her sisters', and hundreds of others from family, friends, work experience students, farm workers and school children who have passed through the shed at lambing time. Ann told us how their daughters, when toddlers, would crawl around after Huw in the shed, amongst the ewes and lambs, and when they were teenagers, storm off in indignation at Huw's brusque instructions – apparently he didn't say 'please' one time when asking for a bottle of milk to be made up! The pleasure derived from these stories, as people chip in their own details, is obvious, and the tragedy of Gwennos death for the small community, is palpable.
A few thoughts stuck with me whilst we were lambing on the farm. Farming permeates and connects the rural community in Wales, like the unseen network of mycorrhiza in a forest. A farm connects local people, families, breeders, feed suppliers, local government, natural resource managers and conservationists – there is an ancillary workforce associated with a farm. The farmers Kate and I spoke to were environmentally attuned. Rob, the aforementioned field surgeon, was passionate about birds and trees and proudly showed me a small-leaved lime in amongst some massive hedgerow oaks. In terms of a future for farming, simply replacing livestock with, for example, ecosystem service payments will reduce and potentially diminish a very old and well-rooted way of life; a reduction in the workforce will have knock on effects. We face a highly complex challenge in seeking a way forward that halts and reverses the degradation incentivised by CAP, whilst maintaining the living, breathing cultural heritage of our countryside.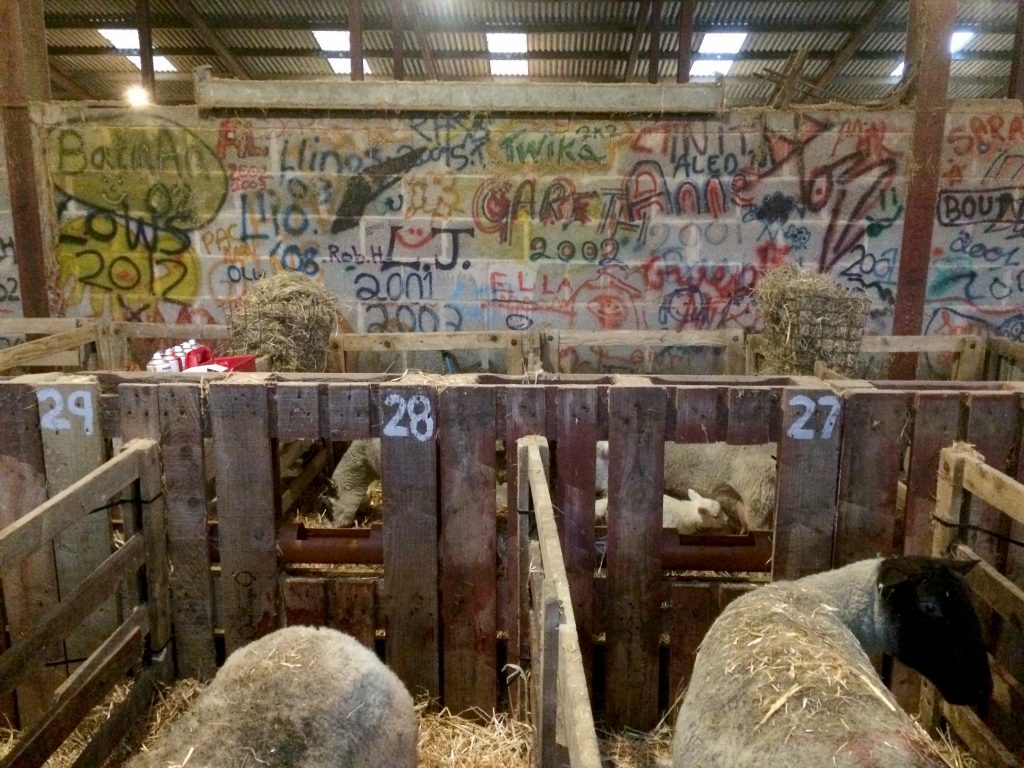 Everyone who has passed through the shed and contributed to the lambing over the years signs their name on the wall. Photo: ©David Bavin
Before Kate and I left the lambing shed, Huw squeezed twenty quid into our hands and told us to go have a beer on him. Thank you Huw, we did, and our experience over our short time on the farm has left an impression that we can incorporate into our conservation outlook. The last thing we did was sign our names on the wall.
David Bavin, VWT Pine Marten Project Officer